We received quite a few thank you letters and wanted to share them with you and also acknowledge, without your support, we would not be able to give, "One More Tour with Honor" to our WWII veterans, they just would not have happened. You play a major part in honoring our Veterans. 
---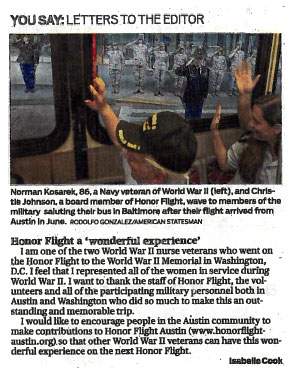 Honor Flight a "wonderful experience"
I am one of the two World War II nurse veterans who went on the Honor Flight to the World War II Memorial in Washington, D.C. I feel that I represented all of the women in service during World War II. I want to thank the staff of Honor Flight, the volunteers and all of the participating military personnel both in Austin and Washington who did so much to make this an outstanding and memorable trip.
I would encourage people in the Austin community to make contributions to Honor Flight Austin (www.honorflightaustin.org) so that other World War II veterans can have this wonderful experience on the next Honor Flight.
Isabelle Cook
---
Dear Mr. Bergeron, chairman of Honor Flight Austin.
How can I thank you and the people of Austin for the trip of a lifetime? From the bottom of my heart, I thank you all. The memorials-I will never forget and what they stand for. I lost a brother and many friends in World War II. From doning the shirt at the Hilton to the letters on the flight home. I have never been so appreciated. The volunteers were so friendly and helpful- The people lind up at the Regan airport-wanted to shake hands with us and thank us. At the memorial- busloads of children wanted to shake our hands and thank us. People wanted pictures of their girls with me. My grandson and his wife took the day off from work to push me around in the wheelchair. They live in Arlington, it was a perfect 2 days!!
Thanks, Sincerely, Mildred (Millie) Evans.
---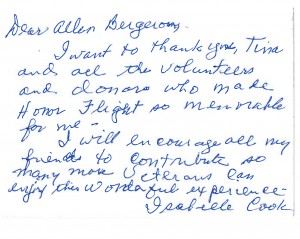 "Dear Allen Bergeron,
I want to thank you, Tina and all the volunteers and donors who made Honor Flight so memorable for me. I will encourage all my friends to contribute so many more Veterans can enjoy this wonderful experience.
Isabelle Cook
---
"I am one of the very favored veterans of the second WW, who was included in the Oct 8, 2012 Honor Flight from Austin. I am still overwhelmed by the attention and pampering that I and the other 100 plus veterans received at the hands of your volunteer staff…This has been a…once-in-a-lifetime experience, a powerful reminder of America's true exceptionality. I personally profited deeply from talking with so many other old soldiers and sailors…"
---
"I am writing to express my thanks for including me in the Honor Flight to Washington D.C. I shall not forget the experience and shall cherish it for the remainder of my life. As a veteran coming home in 1946, almost a year after the war was over, I didn't experience any fanfare or even a "thank for your service", in fact no one met me at the train station. Perhaps, the trip to DC wil bring closure…as it has done for me. Thank you for providing me this experience and please thank my Guardians that worked so hard…"
Billy Bauder
---
"As a WWII Veteran, I want you to know just how much I appreciated the opportunity to travel on Southwest Airlines. Thank you for a well organized trip. I considered the total operations of this flight to be flawless…" Curtis Martel
---